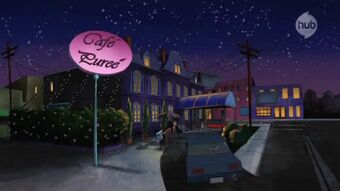 Café Pureé is a fancy French restaurant that took the place of Dan's favorite sandwich shop. It was featured in the episode "The Fancy Restaurant" in which
Dan
targets this fine dining establishment after his beloved sandwich shop is replaced by this one.
Employees

Edit
According to Chris, it takes months to get a reservation there.
The dress code doesn't seem very strict, as all Dan had to do was put a blazer over his normal T-shirt and jeans.
The "sub-human" chefs apparently do most of the actual cooking, whereas the kitchen chef seem to do the preparation.
In Dan vs. Burgerphile, it somehow came back after it was shut down.